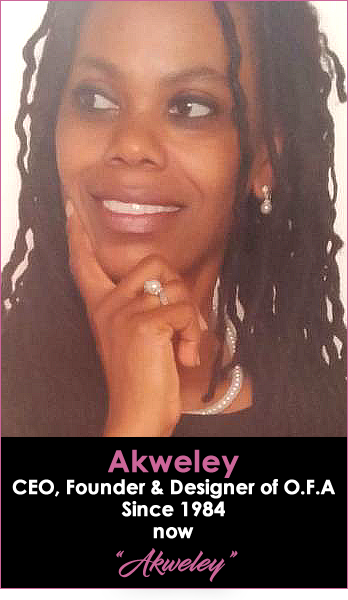 » Biography - Akweley E. Jones
Akweley El Jones is a woman of many talents. A Mother, Fashion Designer, Art Collector, Percussionist, Costume Designer, Choreographer, Philanthropist, Singer, and Basketball Official. Akweley is the CEO and founder of O.F.A., the world's first African pattern company. She toured the world with the Ishangi Family Dancers and lived between America and West Africa for many years. Tracing her own ancestry led her to Ghana. This is where she started collecting authentic art and fabrics for everyone to see the beauty of a people and their culture, through their craftsmanship.
Today, Akweley has settled in Desoto Texas, where she has continued Philanthropic generosity at the Desoto Library, donating Traditional African Artifacts to the Library. She has also returned to her seamstress background and founded "Akweley" a company designing clothing patterns, one of a kind dresses, gowns and trains.
» Experience Will Teach Us.
My love of fabric and sewing started at age 9. Making clothing with just needle and thread. Given a sewing machine at age 11 by my older sister, started the love of designing.
// CEO & Designer for my first company O.F.A. Pattern Company.
// Teaching garment construction at G-Street Fabrics in Rockville MD. From 1997-2001
// Creating garments for my six children
» The Couture In You.
If you have a fashion vision, we can create it for you.
// Affordable Prices
// Payment Plan Available
// Budget Friendly